Join now and save $250 on your next system replacement or qualifying accessory purchase!
Become a Price Services "
PRIORTY MEMBER

," through an Energy Maintenance Agreement (EMA).

An EMA is designed to maintain system efficiency, keeping operating cost at a minimum and extending the life of your system. Correct minor problems before they become costly repairs. Choose the plan that best fits your needs from the options below.
Gold Plan
2 visits per year

10% discount on repairs

No overtime charges
$199.00 … Heat Pump, Dual Fuel, or Gas with A/C
$299.00 … 2 Systems
$399.00 … 3 Systems
$499.00 … 4 Systems
$599.00 … 5 Systems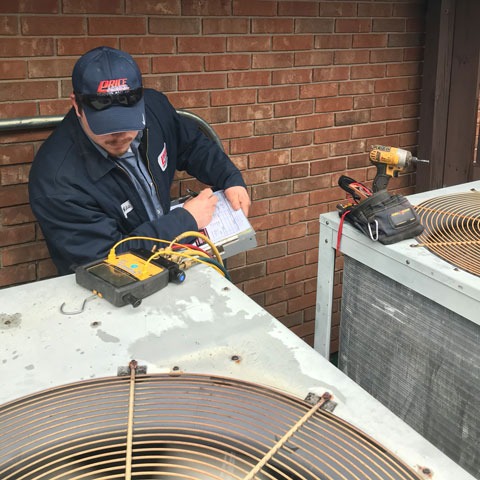 AVOID COSTLY REPAIRS 
Services include:
Replace belts as needed

Inspect flue/venting

Check all safeties & controls

Adjust thermostat calibration

Check refrigerant charge

Inspect ductwork for air leaks

Clean coils, indoor & out

Check & clean blower wheel

Inspect electrical connections

Inspect & clean condensate drains

Clean burners & orifice pilot

Inspect & clean or replace filters (filters provided by owner)

Inspect & replace thermocouple & nozzle as needed
All EMA customers receive "Priority service" status, discounts on all repairs based upon chosen plan, all diagnostic fees waved on repairs, a one-year parts warranty on all paid repairs, and peace of mind that your system is operating at peak efficiency.  
Maintenance Facts
Most Heating/Cooling sytems have energy wasting problems
1/100

th

of an inch of dirt on an evaporator coil can increase operating cost and 8 to 10% efficiency

Dirty blower wheel can reduce air flow over 30%
23% refrigerant undercharge can cause 52% efficiency loss
10% reduction in air volume (where excessive) can decrease fan energy consumption by 30% and provide a more comfortable space temperature
15% return air leak from 120 degrees attic can double operating cost
Call 828-863-4966 NC • 864-580-1601 SC

For emergency service or to schedule an appointment.